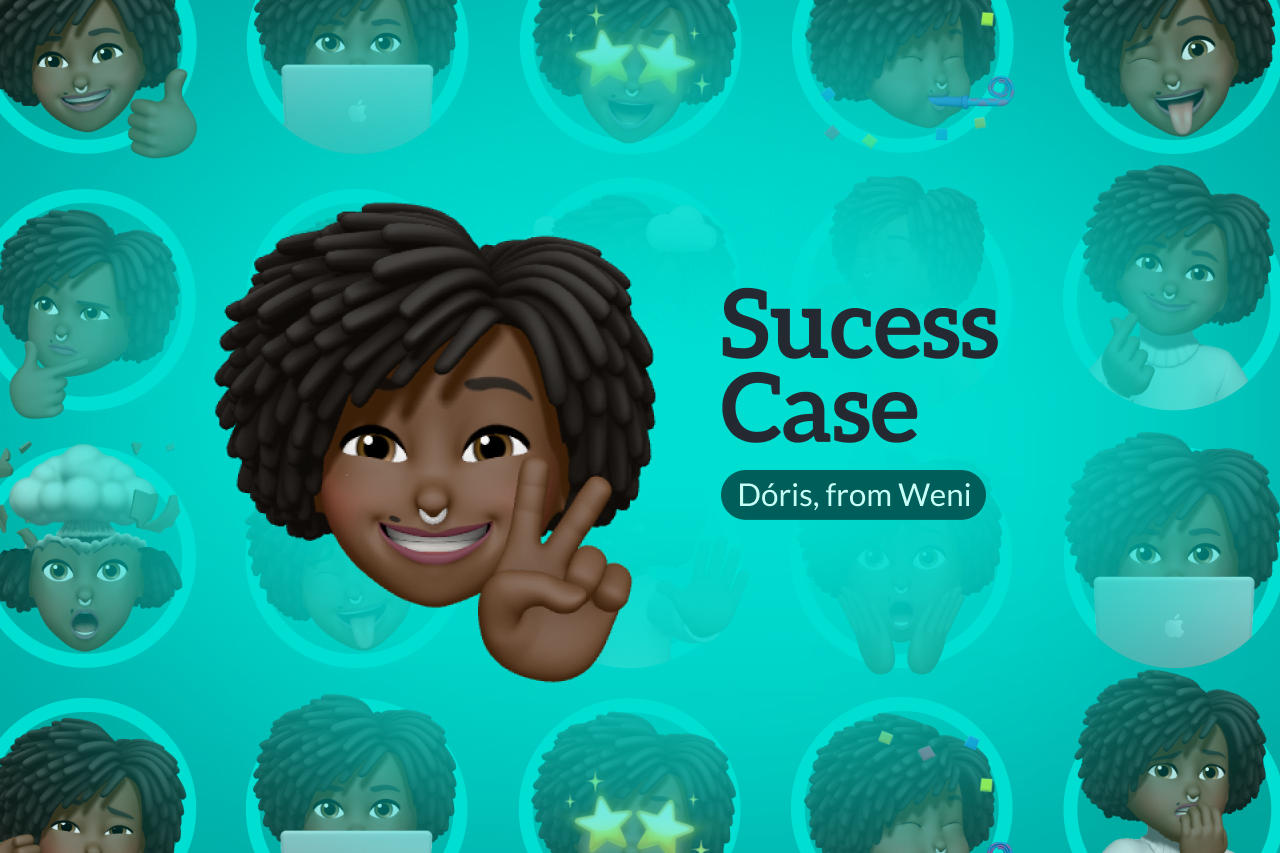 Learn how Weni revolutionized automated customer service and used an intelligent chatbot to attract, inform and convert leads via WhatsApp, Webchat and Instagram
Highlights
More than 240,000 messages exchanged with people who contacted Weni.
More than 37,000 requests have been resolved without the need for human service.
An incredible 70% of the company's qualified leads contact the chatbot at some point in their buying journey.
Responsible for initiating service for 53% of sales in 2023.
BUSINESS X-RAY
About Weni
Weni is a communication automation company with Artificial Intelligence, which exists to unleash human potential and enable organizations around the world to scale their relationships with the public.
With clients in several Brazilian states and more than 40 countries, the company has already impacted millions of people with projects hosted on the Weni Platform, an intuitive tool for creating automations that require complex integrations and AI.
Location
The company 's headquarters are located in Maceió, Alagoas.
Type of Business
B2B
Number of employees
Approximately 100
How many people the business serves
The company has clients in several Brazilian states and more than 40 countries
Solutions used
Weni Flows
Weni AI
Weni Chats
To reduce manual and repetitive work and improve the customer experience, many companies are investing in automation. This resource has helped various areas, such as marketing and sales, to optimize processes and personalize service.
It was with this in mind that Weni created Dóris, the chatbot that revolutionized contact between brand and customer on WhatsApp, Webchat and Instagram.
Today, the virtual assistant is so indispensable to the company's operations that 70% of Weni's qualified leads contact her at some point in the buying journey.
The challenge
The maxim "serve well in order to sell more" has never been truer than it is now – no matter what market we're talking about. To this end, the use of chatbots and other automation tools has become indispensable in business operations.
And that's not wishful thinking! As an automation company, we have seen a growing demand for innovative customer service technologies.
According to Mobile Time's Map of the Brazilian Bot Ecosystem, the creation of chatbots increased by 46.76% in Brazil in 2022. Of these projects, the sectors that most use this technology in one of their processes are: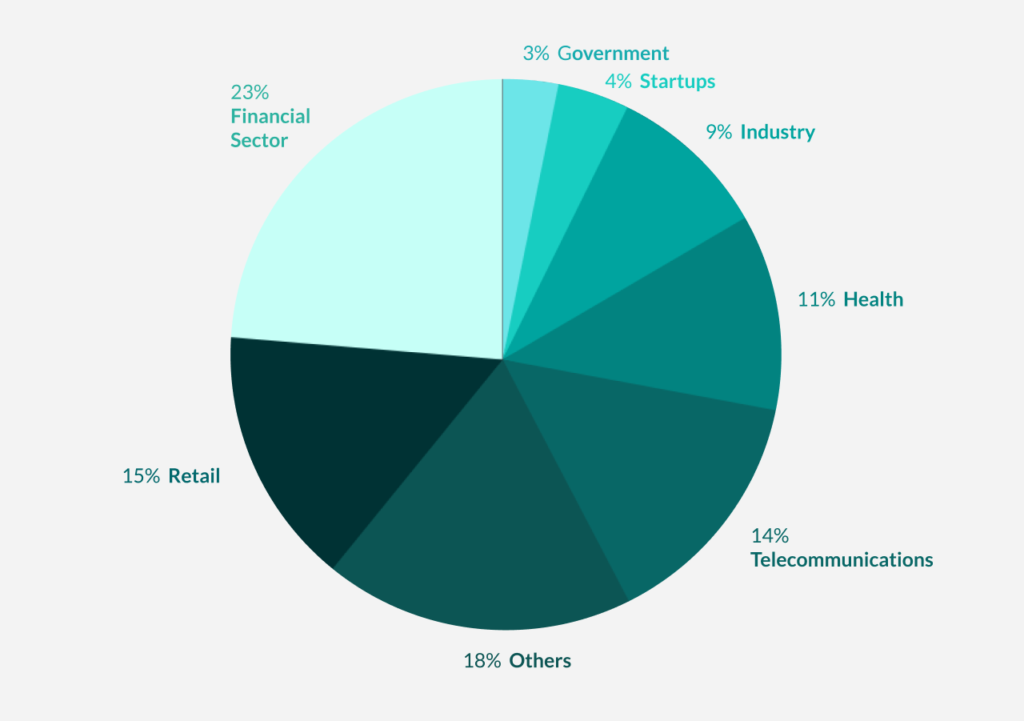 Although we already had a chatbot, we realized we needed to improve it in order to get away from generic and unsatisfactory responses. After all, this could leave site visitors frustrated and disengaged.
So we drew on our experience in the field and came to three conclusions that helped us evolve our strategy:
Personalization is the big secret to winning over customers
Intelligent automation is generating ever more evolved and seamless experiences
Conversational technologies help companies focus on customer needs.
Since the old chatbot didn't capture enough information from visitors, converting leads and identifying opportunities was difficult for the marketing team.
A system was needed that could identify the profile and needs of visitors in order to target the right solutions and increase the chances of a sale.
After correctly mapping the profile of a potential customer, the bot needed to take the information to our CRM database, so we needed to develop a virtual assistant with good integrations, capable of connecting different software.
"Among the challenges of our journey, the most obvious was the need to establish effective automation that would collect valuable information from our leads and integrate it with our CRM. In addition, we needed to develop a chatbot that didn't respond mechanically, but that understood the needs of our leads. With this in mind, our goal was to make Doris much more than a virtual assistant: we wanted her to become one of our pre-sales people, capable of qualifying leads with a high standard of quality and agility."

Camila nesi
Marketing Coordinator
The solution
To evolve our marketing strategy and solve all the problems we encountered, we decided to create Doris. We redesigned the conversation flows to be an extension of our way of speaking and took advantage of the latest in AI: ChatGPT.
Today, the chatbot Dóris is the first link between visitors and Weni. We were able to create a virtual assistant who automates important marketing processes, such as lead qualification and categorization, and who is also responsible for intimate, humanized communication with everyone interested in finding out more about Weni.
As you know, a good impression is fundamental to establishing a client/brand relationship. With Dóris, we offer site visitors confidence from the first contact and we gain these benefits:
Agility in responses;
Standardized service;
Improved user experience;
More productivity from the human team;
Centralization of all contacts in one place.
"The coolest part of Doris, for me, is not just how we manage to answer leads' questions and qualify them, but how we manage to fit a chatbot into the whole process. It's not just the gateway, but serves as a valuable experience for us to maintain a good relationship with the lead, bringing an experience very similar to a 1-to-1 service, while at the same time automating all the work that would be necessary to provide this type of service."

Matheus Enrique
Marketing Analyst
Doris as a sales channel
When it comes to sales, Doris is a great conversion point. Using user intent recognition, she ensures the right level of personalization and humanization in her tone of voice by sending persuasive and educational content in a different way.
This is how the bot ensures greater adherence from leads in the nurturing stage and helps them move forward in the buying journey.
In addition, several studies show that intelligent process automation has a promising future. Research shows that 6/10 of consumers believe that generative AI will improve the customer service experience.
Our strategy with Dóris has worked so well that as well as having the bot active in our inbound marketing strategies – on Weni's website, via WhatsApp and on Instagram – it is also present in our social media content.
Dóris, Weni's chatbot, in practice
Dóris has been on Weni's website since January 2022. Since then, she has been constantly updated to incorporate the new features of the Weni Platform and the latest trends in customer service.
We can consider that Dóris has three main modules:
1. Small Talks
The Small Talks Module is responsible for ensuring the first contact with the user. This is where Doris is able to answer questions and really talk to the visitor about the subjects they want to know about.
This guarantees the start of the relationship between the visitor and Weni. Normally, users ask about price, how the product works and more technical questions about chatbots and AIs.
2. Qualification
The qualification module is responsible for capturing the lead's information and analyzing whether or not it is a qualified opportunity for our team. It does this by asking general questions about the visitor's data.
This module is only activated when the visitor shows interest in finding out more or when they want to speak to one of our experts. Since Dóris is able to overflow the service via Weni Chats, our human service module.
3. Nutrition
Finally, we have the Nurturing module. The aim is to maintain contact with the lead and ensure that they are nurtured with relevant information that can help them make a decision within the Weni Platform buying journey.
Even though it was created to solve problems, Dóris captures information from visitors in a non-invasive way, allowing leads and business opportunities to be identified for the Marketing team at the right time, when the customer is ready for it.
With the implementation of Doris, we were able to direct our efforts more strategically, optimizing the conversion process. We have overcome previous challenges and are reaping the rewards of this investment by providing a more effective and satisfying experience
Weni Platform's differential in the intelligent automation of processes and the construction of Dóris
We consider the Weni Platform to be essential to the success of the Dóris chatbot. Since the tool is very visual and intuitive, structuring Dóris was made easy.
In addition, the flows on which it is based were created quickly and agilely, which allowed us to have an MVP (minimum viable product) in just 15 days, an almost record time.
Another point worth highlighting is the ease with which the Weni Platform can create new integrations. Today, Dóris has integration with the main tools our team uses on a daily basis: RD Station, Sienge, Odoo and Rocket Chat.
With the right platform, it's possible to talk to all the tools in the best possible way, easily consulting and registering new data as needed.
Intelligent service with Weni AI
Dóris uses the advanced features of the Weni AI module to offer personalized answers. In addition to understanding the context of the questions asked by people interested in our products.
This Weni Platform module has a unique Artificial Intelligence technology that proposes solutions and, at the same time, develops natural interactions by simulating human conversations.
By using AI, we can automate customer service without losing its naturalness. In other words, we can scale the service without losing the personalization expected by the customer.
Over time, the user experience will only improve. The bots that use Weni's AI can learn from the history of customer service.
The more they talk to customers, the more they will have behavioral information and will be able to personalize and refine responses according to the profile and preferences of the customers, the sector and the company.
In this way, you create positive experiences while automating the entire process of customer service, sales, marketing campaigns and internal company demands.
Human service with Weni Chats
We've already seen here that chatbots can solve most of the routine demands of the operation, right? But what can be done in more specific cases where the intervention of a human agent is necessary?
It was precisely with this in mind that Weni created Weni Chats, its own human service module within the Weni Platform. With it, users can overflow conversations on communication channels to their service agents.
This is how we achieve seamless, fast and context-rich transitions between bots and human agents. Weni Chats connects customers to human agents in a natural way, bringing the right person to answer the call in question.
But in addition, these human agents will have a complete picture of the customer: products or services purchased, previous support interactions, sentiment and whether the customer has tried to solve the problem through self-service.
Results
Dóris has become an essential ally in serving visitors, conveying Weni's values consistently and contributing to the qualification and conversion of leads. Some of the metrics we use to measure Dóris' success are:
Number of questions answered;
Number of leads acquired;
Engagement in nurturing;
Number of leads progressing through the sales process using Dóris.
Since its launch, Dóris has accumulated almost 200,000 contacts created — people who have interacted with it at least once. Not necessarily a person who has become a lead.
On WhatsApp alone, today's main business communication channel, approximately 12,000 contacts have talked to the company.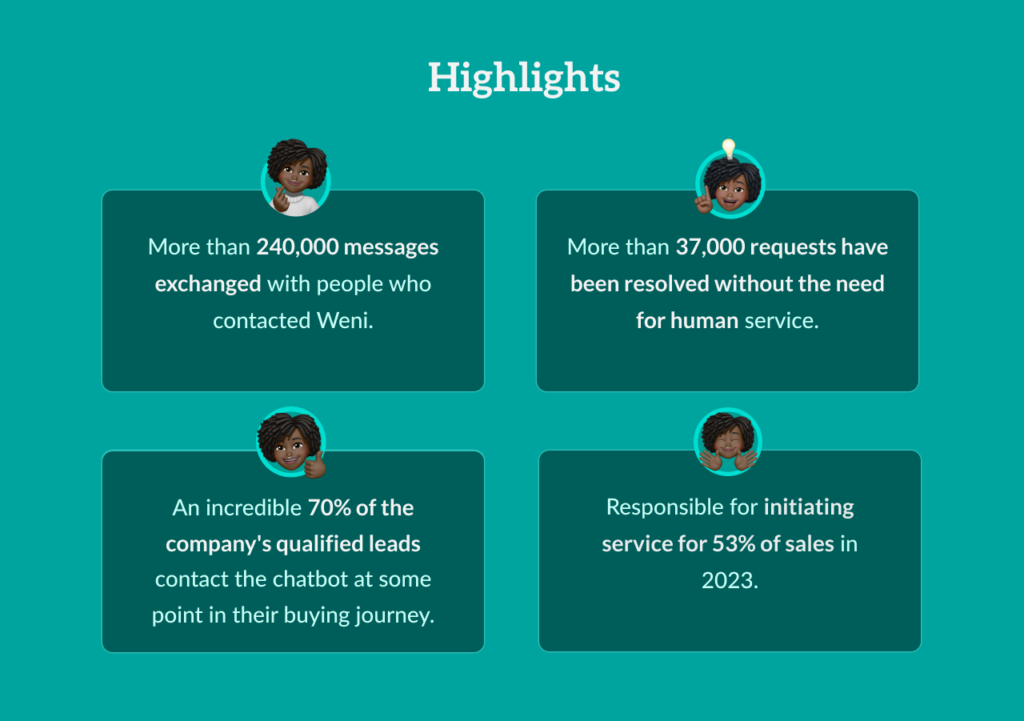 We achieved 44% more sales than expected for Doris in the first half of 2023. This shows how the chatbot is managing to help us qualify our leads and improve our conversion rates.
Next steps for the solution
We are very satisfied with the current results and are continuing to improve our virtual assistant to provide an ever better experience.
For the near future, we have established some development and improvement steps for the bot, based on data analysis and results already obtained:
We will make the Small Talks module better and better, guaranteeing a great first experience with the brand;
Continuous improvement both in the qualification questions and in the quality and manner in which we trigger the nurturing content;
We will turn Doris into a 360º chatbot. We're going to connect her to all the company's service areas and not just marketing and sales. We've already started with the Customer Support sector and
Measuring the level of engagement of leads with each flow created.