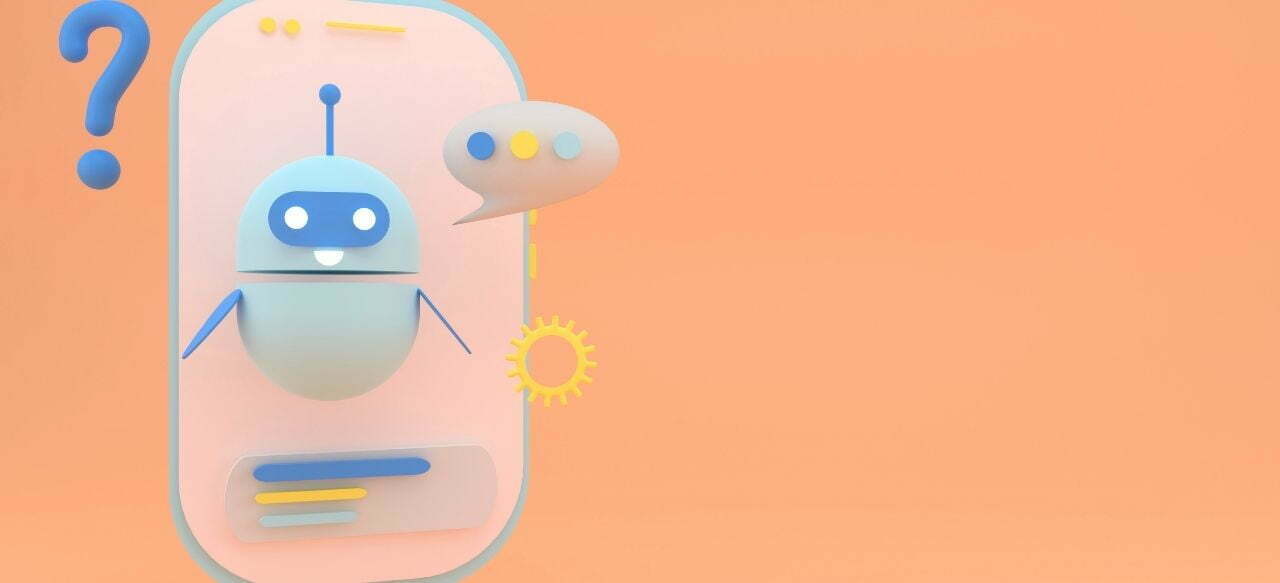 Is it common in your company for customers and leads to go completely unanswered or wait a long time for a response? If your answer is yes, then you need to read this article.
We will talk about chatbots: a technology currently gaining space in companies and in the hearts of consumers.  
So c'mon, read on!
What is a chatbot?
A chatbot is a system that talks, understands, and responds to requests quickly. The word is a union of two english words: "chat", which means conversation, and "bot", which means robot. In the literal sense, a chatbot is a "chat robot".
But this does not mean that the answers are mechanized: the chatbot, when well configured, is able to maintain a natural and humanized response.
The main advantages are cost reduction and increased agility and quality in interactions with customers and leads. In summary, chatbots enable faster communication at any time the consumer requests, through the automation of conversations.
Chatbots are the evolution of a technology called NLP (Natural Language Process), which is responsible for improving machine understanding of human language.
Chatbots can be deployed in service tools, systems, and or applications in general, such as WhatsApp Business, Facebook Messenger, Telegram, and Call Centers.
Some companies are choosing to use Chatbots in one sector or another. Generally, they choose the one that is composed of the attendance processes with the most repetitive dialogs. A classic example are the queries for payment methods and delivery of goods.
But how do they work? What to do to have a tool like this? Is the chatbot really effective?
These and other questions you can clarify in this article. Read on with this post!
How do Chatbots work?
Chatbots work, in general, by understanding and responding to messages from users in an assertive manner. For this action, there is a well-designed process responsible for receiving, analyzing and passing on the response.
This process can take place in two ways: by rules and preconfigured guidelines or through Artificial Intelligence.
In the first case, the chatbot responds only to objective requests, which are saved in its database. Because of this, the vocabulary ends up being more limited.
A chatbot developed from an Artificial Intelligence is able not only to interpret and respond to users, but also to learn new response patterns as it interacts with users.
Although an AI-powered chatbot features more functions of the first type presented, it doesn't mean that it is "bad." What will define the use of one type or another is the business objective, as well as the main interactions that the user will have with the chatbot.
Sometimes, it is even more advantageous to opt for a guideline-based chatbot than one by AI.
Where can Chatbots be used?
Chatbots have many applications in many different industries and sizes of companies. Among the most common functionalities, chatbots can be used for:
Lead capture;
Sales team support;
Surveys (satisfaction, public profile, and others);
FAQ.
Let's understand these applications.
In capturing leads
A chatbot used as a marketing strategy aims to improve the engagement and relationship with your audience.
Chatbots with this function are able to capture, qualify and nurture leads. And now, best of all: you can follow up on this almost instantly. They can, for example, be programmed to trigger messages.
In customer service
It is not always possible to have a large customer service team available, especially for companies that receive a large volume of requests.
Because of this, in some cases, many customers end up giving up on the service, because they already know that the company takes a long time to get back to them. In this sense, one of the most effective ways to solve this problem is the implementation of a chatbot.
After all, with it you can perform an initial triage of the type of service and direct it to the appropriate team. You can even inform the time it will take to complete the request, for example, which can avoid a possible dissatisfaction.
In addition, they can collect data and information from customers and store them in the communication platform. This way, when the service goes to the attendant, he will already know what needs to be done.
Together with the sales team
A chatbot can make sales on its own. After all, not every company is able to maintain a sales team 24 hours a day.
However, automating a sales process also depends on the type of business. In the case of consultative sales, for example, it may not be so interesting to use a bot.
On the other hand, this technology can be used to streamline the service and pass on more information about what is being offered.
In conducting satisfaction surveys
You, after some service, probably received some call or message to evaluate you. This process can be done by chatbot!
And one of the most used surveys by bots is called NPS – Net Promoter Score. This is a methodology that aims to assess the degree of loyalty of a customer.
Thus, by answering a few automated questions, the customer informs his perception of that product and/or service; managers, in turn, can analyze this data.
Other types of surveys can also be automated, such as to collect information for launches, public profile surveys, and consumer habits, for example.
In the frequently asked questions of a website
Who has never accessed a FAQ- Frequently Asked Questions of a website, or system?
Some customer questions are very common. And, having a team to answer these repetitive requests, can mean a waste of money and also of personnel.
To avoid this problem and speed up communication, have a chatbot to automate this process.
Advantages of having a chatbot in your company
We have talked so far about various benefits of using a chatbot. Here, we list some of them.
Reduced waiting time
No one likes to wait a long time for an answer or get no answer at all. This is one of the reasons why many customers and leads say "bye"!
In a survey conducted by the site Reclame Aqui (Complain Here), more than 200 thousand customers complain about the delay for a response.
The chatbot is able to reduce to practically zero the waiting time in cases of primary requests. After all, this technology is not always able to solve all problems immediately.
On the other hand, the chatbot can direct the service, so that the customer is not left without a response. After all, the bot is available 24 hours a day, 7 days a week.
So, no matter if your company receives a message at 4 am or 8 am, it can be answered instantly.
Cost reduction
24-hour service without a large staff? That's what the chatbot proposes!
After all, maintaining a dedicated team all the time is much more expensive than maintaining a tool like this.
According to this IBM article, chatbots reduce customer service costs by up to 30%.
Standardization
As we have already mentioned, chatbots are not intended to make customer service mechanized. Quite the contrary: it helps to standardize this process, so that all customers receive the same quality.
In other words, it is robotization with the right dose of humanization, generating a good and agile experience to your customers, leads, and partners.
Increase in productivity
Chatbots can handle a large amount of information at the same time. This increases productivity, not only in terms of the number of requests processed. After all, once the bot is solving some more repetitive activities, the company's employees can focus on other processes.
How to create a chatbot?
Before thinking about choosing the best chatbot, define what your goal is with the use of this tool. Remembering that it must be aligned with the business objectives.
Deploying the chatbot because "everyone is doing it" is far from being the best answer.
So, once the objective of the chatbot has been defined, define the channels it will use, such as Instagram Direct, WhatsApp Business, Customer Service platforms, website, etc.
Once this is done, the third step is to map out, based on data and also on the experience of those who work in your company directly with customers, what would be their main interactions with your brand.
To make it easier, you can choose to use menus to guide the user to choose the questions.
What is the best chatbot on the market?
The best chatbot is the one that meets your company's needs. It may be that one model will work for some, and for others, not so much.
How much does it cost to create a chatbot?
The answer is: it depends!
The price of a chatbot can vary, basically, according to the technology to be employed for the development of the tool, according to its level of complexity and features that you intend to hire.
Another issue is to choose between a tool already developed, requiring only previous configuration, or to develop a specific bot for the company.
Evidently, the latter case can become much more expensive, as it requires hiring a team and specific infrastructure for bot development.
Moreover, in the market, there are chatbots: free and paid.
Free
You can choose to use a free bot. To do this, you need to register on a platform that allows it. Usually, the number of flows and functionalities are limited.
When looking for a free tool, you should keep in mind that the resources for customization will be limited. So, the chances of your chatbot not being as humanized and assertive increase, since each business has its own rules and specificities.
READ MORE: Humanized chatbot: what is it, how creat and why invest in this technology
Paid
With a paid chatbot, however, the chances of having your expectations met increase, as you can customize features and functionality to a much deeper level.
This also means that your customers will have a higher level of humanization. And the price?
Once again, we repeat the answer: it depends!
Chatbot vs Customer Service
Customer Service is something that each and every company needs to offer its customers.
The use of chatbot in the service can positively impact this channel of contact between the consumer and the company. Just think about the service process itself and its particularities:
Not being able to predict, to a 100% level of certainty, when the customer will contact you;
Not being able to ensure a standardization, even of the initial service;
Losing customers for not being answered, etc.
Using a chatbot in the direct customer service is peace of mind and security, both on the consumer side and the customer side, when it comes to quality service.
How to create a chatbot for WhatsApp
The first steps of creating chatbots, as we already mentioned, is defining the purpose of the tool in congruence with the business and mapping the main requests that are usually made by customers. Then:
Download the WhatsApp Business API and wait for it to be released for use;
To ensure security through encryption, the bot needs a host in a database;
Download a chatbot builder, to evaluate and test the bot you just created;
Constantly test and evaluate your chatbot with customers.
The last item is very important for improving your company's service. It is normal that, over time, new interaction flows emerge.
The chatbot is a process facilitator tool, which can ensure a good experience of a standardized service to all customers. In addition, it facilitates the analysis of all the data obtained in this process.
This tool, which is becoming increasingly common in multiple business types, can be a solution for many companies that are losing customers, both for not being able to maintain a good after-sales relationship and for not being able to say even a "good morning" to leads.
Did you like our content? Leave your comment. Your feedback is very important to us.