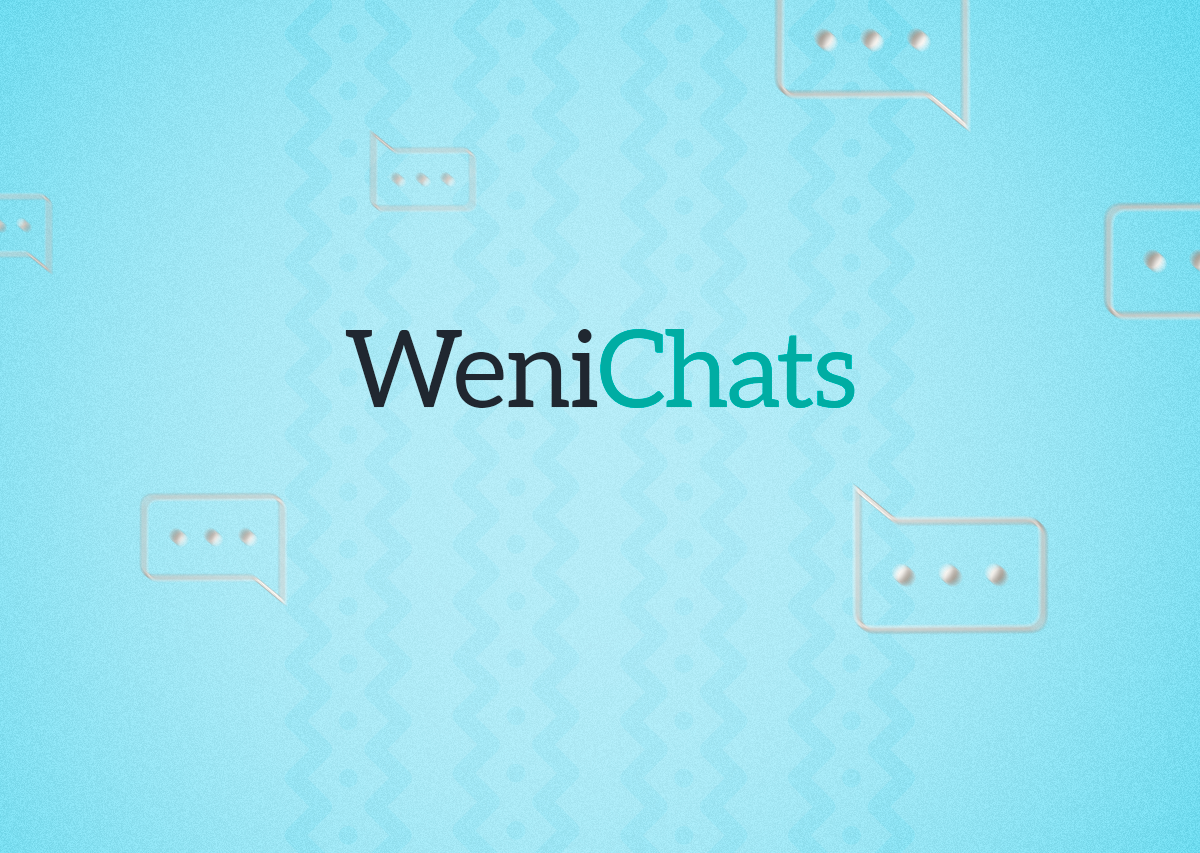 Is your company in difficulties managing customer service? Do you miss having an accessible contact history? Is your current service module too complex or does it crash often? And what about investments? Are you paying too much for a platform that doesn't solve all your problems?
One tool can solve all these problems: Weni Chats.
This is the service module fully integrated with the Weni Platform. The tool came to meet the needs of service, contact and data management. All of this in a simple, complete and intuitive way.
With it, you have everything you need in one place. And you can even connect Weni Chats to your WhatsApp, social media, and other channels to have an integrated communication — making life easier for your attendants and improving your customers' experience.
Learn more about the features of Weni Chats and find out how to access this tool.
What is Weni Chats?
Weni Chats is a human customer service module within the Weni Platform, created so that users can transfer conversations from communication channels to their customer service agents.
In addition, it is possible to communicate with your customers and leads, manage contacts, analyze data, and track the stages of service and support that your customers need.
The tool can be connected to WhatsApp, social media, websites, and several other channels. This way, your communication is centralized and fully integrated in one place. This means that a customer can contact you through WhatsApp or Instagram and your attendant will only need to focus on staying on Weni Chats. 

How does it work?
The operation of Weni Chats is very simple. As it is fully integrated with the Weni Platform, it does not require installation or even complex settings.
With this module, you, as a user, can handle customer service, organize all conversations in queues, register quick messages, and have a repository of histories to gain insights and prevent agent rework.
Speaking of agents, user permissions and assignment levels are organized into:
Agents;
Service Managers;
Administrators.
Agents are customer service employees who make the most direct contact with customers and have the most basic permissions. Managers are those who manage service groups and departments.
And administrators are users with all permission levels for Weni Chats settings.
Why use Weni Chats?
The development of Weni Chats arose from the needs that companies face in customer service and contact management. Complex and inefficient tools not only make management difficult but also deliver a negative experience for the consumer.
There is also the financial factor. Many businesses need a large investment to use expensive solutions that do not always meet all support needs. As a result, they end up slipping in customer service and struggling to scale their businesses.
To solve this scenario, Weni based Weni Chats on self-service features and experience. This is a tool for everyone, including small and medium-sized enterprises that need to serve their audience with a positive experience.
See what the main features are for your service management.
Quick messages
Have you ever used a notepad to copy and paste messages that you need to use frequently? Greetings, farewells, step-by-step instructions and warnings that are sent all the time can be registered in Weni Chats.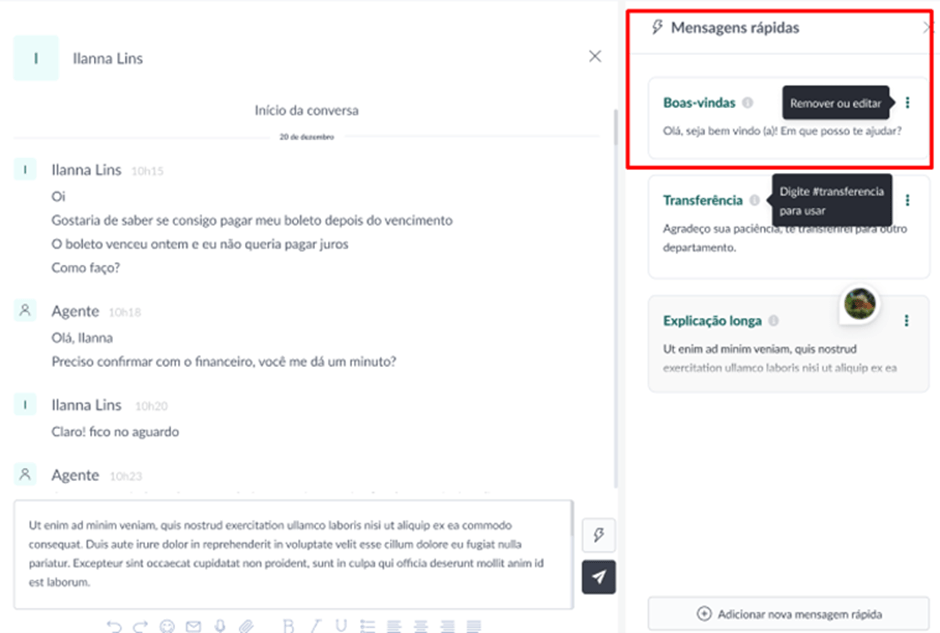 Quick messages can be configured by agents and with one click select texts that are frequently sent. To use this feature, simply access the sidebar and click on the message you want to use. The agent can also type a shortcut to make it even easier.
Media sending
Weni Chats supports sending different types of media. Often, the agent needs to forward videos with tutorials, documentation and other formats that facilitate management and service experience.
In Weni Platform's tool, all three levels of users can send and receive:
Audios;
Videos;
Document formats (such as PDFs);
Images.

Chat transfer
Is your sector or agent with queues waiting for service? The chat transfer function can be used to pass on specific conversations or queues to other sectors or agents.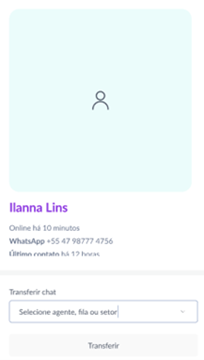 So it's easier to handle customers and leads who are waiting for service, avoiding high response times.
Just select the queue, sector or agent you want to transfer and you're done. The conversation and contact are already directed to the new responsible.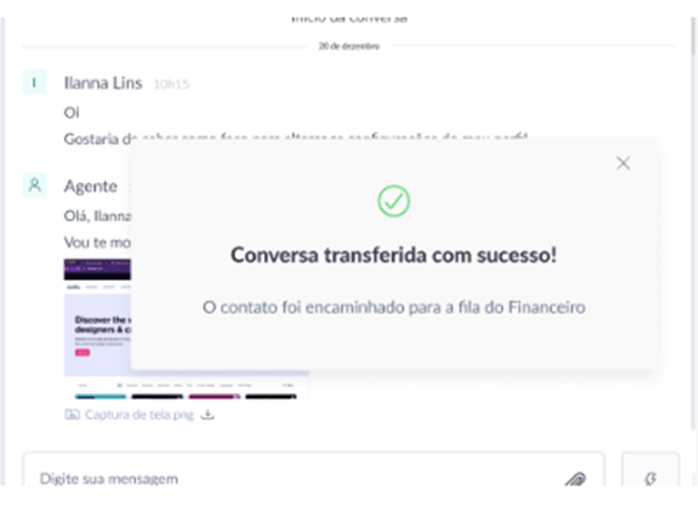 Tag organization
Do you have difficulties identifying the subjects of the service? Are conversations loose and disorganized, making it difficult to solve problems and improve service?
Thinking about it, Weni Chats allows the ordering of themes through tags, such as "financial", "marketing", "sales". This way, whenever a conversation is closed, the agent can select one of the configured tags to categorize that service and contact. 

This feature facilitates the identification of service flows, as well as organizing conversations into topics and generating insights – most common questions, sectors with more service flows, for example.
Records
In Weni Chats, user levels will be able to filter service records by date or tag. Thus, it is possible to access conversations that have already been closed, being able to follow everything that happened in that service – from the first message sent. 

This visualization can be used to identify improvements in service, identify response time, agents who made contact and customer data for future conversations.
Dashboard
Having access to the data, metrics and results of your services is the strategy to offer good service, identify improvements and organize your teams.
In Weni Chats you have access to a dashboard that will give an important summary of your services, including the number of services in the waiting queue, response time and interaction time.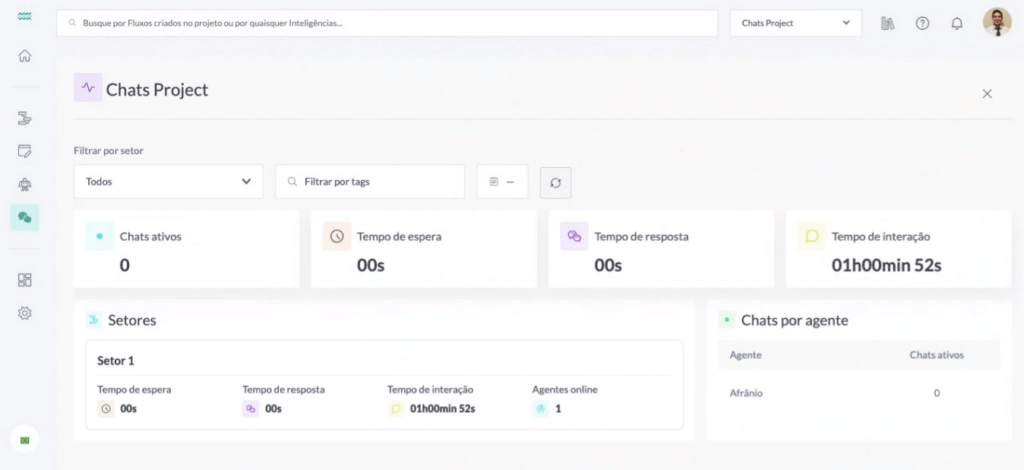 And you can still filter by sectors, to identify how each department is performing the service, for example.
Sending Flows
Did you know that you can speed up your attendants' work and deliver experience to your customers even more?
You can create flows on the Weni Platform and send them to contacts through Weni Chats. These conversations can reach your customer's WhatsApp, for example.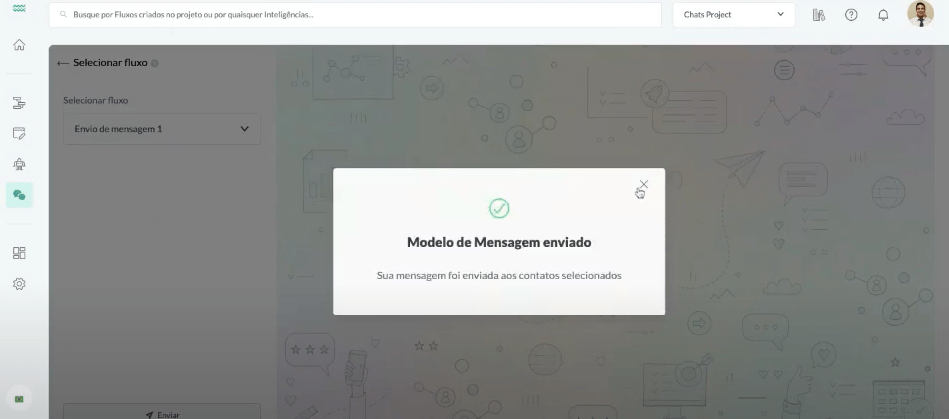 And when the contact responds, the attendant will have access within Weni Chats, without the need to use another tool.
In addition, your service agent will have access to the entire conversation history between the customer and the flow bot created.
Weni Chats: your centralized and accessible service
Weni Chats is a very simple module to use. Just have an account on the Weni Platform to access all the features. It does not require complex settings or even heavy implementations.
It's simple, but well done!
The module was developed to be an affordable solution for everyone who wants to improve the quality of service and deliver positive experiences to their customers.
That's why Weni Chats does not change the value of our customers' subscriptions and can be used for free on the free plan.
What do you think about testing Weni Chats for free in your service? If you don't already have an account on the Weni Platform, sign up now!"