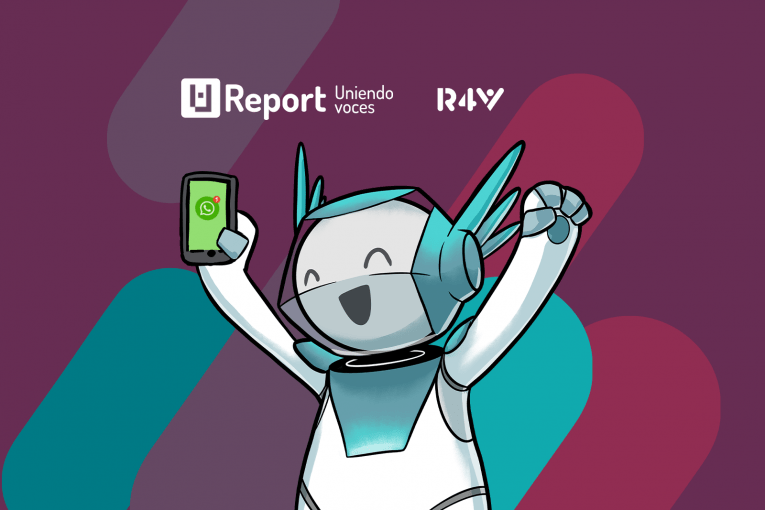 The project that impacted more than 35,000 adolescents and youg refugees from Venezuela.
Highlights
More than 200 organizations involved in refugee welfare
Approximately 35,000 lives impacted
Over 12,000 U-Reporters (research volunteers) registered with the project
---
RAIO-X DO PROJETO
About R4V
Uniendo Voces is managed by UN agencies and other organizations, such as ACNUR and Plan International, which make up the Inter-institutional Coordination Platform for Refugees and Migrants in Venezuela (R4V).
Business Type
Non-profit, humanitarian aid.
How many people the project serves
More than 35,000 Venezuelan refugees welcomed in Brazil, Ecuador and Bolivia.
Contracted Solutions
Official API of WhatsApp
Rapid Pro Communication Platform
U-Report Dash for the project
Evolution Consulting
---
Designed for young Venezuelan immigrants who have left their native country due to the social and economic crises, Uniendo Voces is an interactive system that offers reliable information about the rights and services available in Brazil, Ecuador, and Bolivia, countries that host those seeking shelter.
The accelerated communication between organizations, governments and populations assists in humanitarian issues and ensures better living conditions for those in need. The project brings relevant information in real time, helps with regularization procedures for refugees, and offers them the opportunity to participate in each new decision that will affect their lives.
The challenge: communicating with young Venezuelan refugees
The crisis in Venezuela began around 2013 and has been dragging on throughout the South American country ever since. Started for political reasons, today Venezuela faces a serious humanitarian crisis, as a considerable part of its population suffers from a lack of food and basic survival rights.
Today, this is one of the largest displacement flows in the world: more than five million people have left their country of origin since the beginning of the social and economic crises, and more than 260,000 have sought refuge or residence in Brazil, Ecuador, and Bolivia.
Other Venezuelans remain without documentation or permission to reside regularly in neighboring countries, and thus are not guaranteed access to basic rights.
This makes the refugee situation much more serious, affecting more people and compromising the reach and sustainability of the humanitarian system.
In response to the crisis, the Regional Inter-Agency Coordination Platform R4V (Response for Venezuelans) was created as a forum to coordinate the actions of UN agencies and civil society organizations.
The goal is to promote access to rights, basic services, protection, self-reliance, and socioeconomic integration for this population as well as their host communities.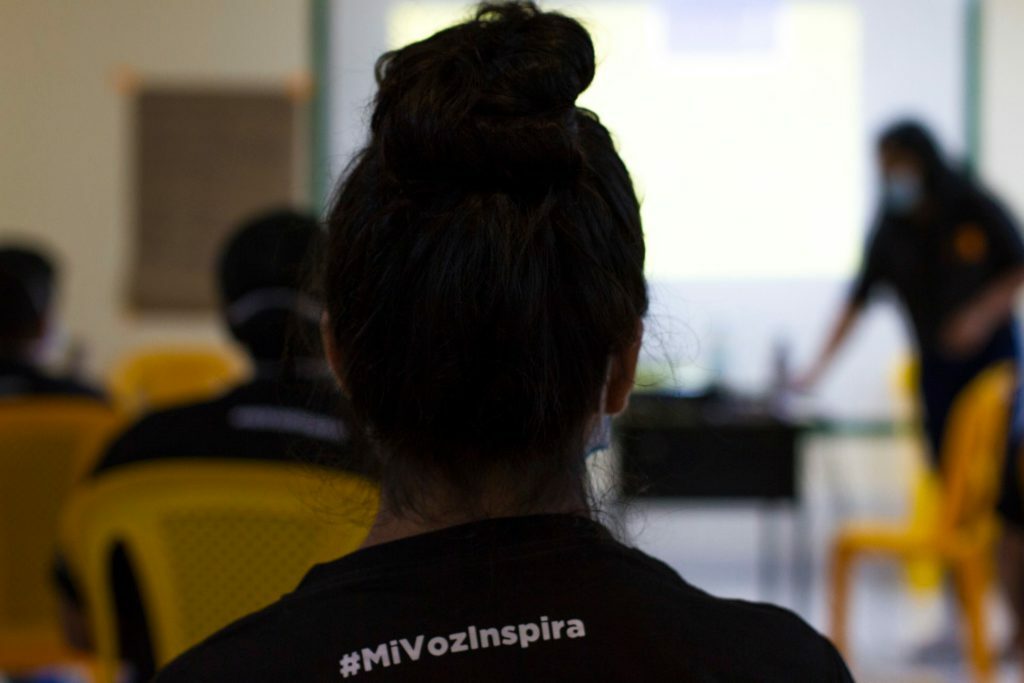 A survey conducted in 2019 by the R4V Platform's Communication with Communities Working Group revealed that 65% of refugees and migrants from Venezuela in Brazil have access to a cell phone, and that 80% access the internet through different devices.
This survey helped to program immediate emergency assistance actions for those affected. Realizing that access to the right information, at the right time, and in the right format is essential to saving lives, R4V looked for ways to connect teens and youth through the channels they use — such as WhatsApp and Messenger — to properly inform them about topics that would make a difference in their lives.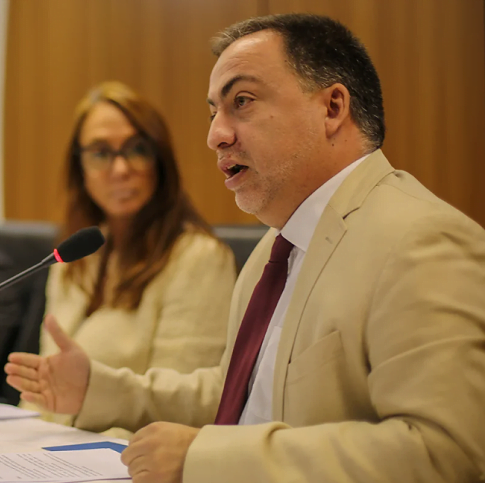 "We will provide access to quality information, in a simple way, in channels used by young people and that require little internet data usage." — José Egas, Representative of the UN Refugee Agency in Brazil.
The solution: Weni technology connected to communication channels
Pensando em melhorar as condições de vida dos refugiados, o R4V contratou o U-Report, um programa de comunicação e engajamento com jovens em todo o mundo, que usa tecnologia Weni.
Thinking about improving the living conditions of refugees, R4V has contracted U-Report, a communication and engagement program with youth around the world that uses Weni technology.
Created in 2011 by UNICEF to empower communities of youth and adolescents, U-Report ensures that those who register have access to information, can speak out about issues that affect them and their communities, and participate in citizen development.
Integrated with U-Report, Weni helped in the development of a chatbot called "Gigante", responsible for helping people access updated content about their rights and available services. Communication is done through WhatsApp or Facebook Messenger.
In addition to informing, Gigante helps associations and governments to manage, administer, and engage refugees, encouraging the participation of young people as agents of change in issues relevant to society.
For Uniendo Voces, Weni's solution was adapted to automate answers to the most recurring questions of the population on a mass scale, and establish and nurture a good relationship with young refugees.
All the communication of the project was thought and structured based on:
quality
effectiveness
scalability
humanization
It is worth remembering that the platform allows anonymity for contexts where citizen privacy is fundamental in the process of civic engagement, so the participation of young people is always voluntary, anonymous, and free.
The use of technological tools to solve social problems is Weni's specialty, being an example of applied technology for civic engagement.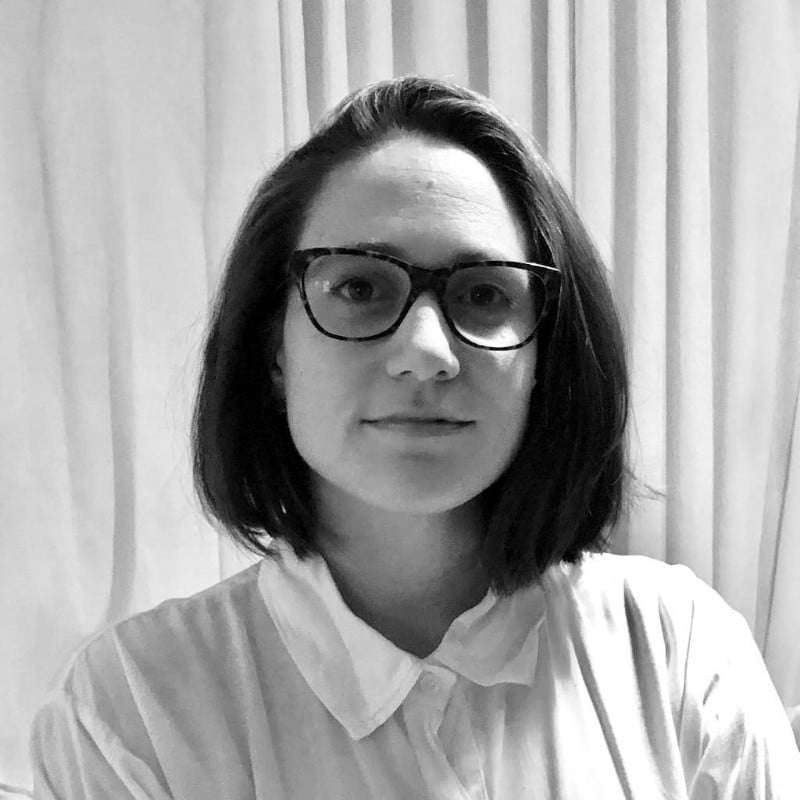 "Weni was a true technological enabler in helping to automate communication with refugees in Venezuela. Our mission is to unleash human potential, nothing could be fairer than using all our resources to welcome and give a voice to those in need." — Carolina Equizabal, Costumer Success Analyst responsible fot the project at Weni.
Since its foundation 10 years ago, Weni offers technology for the most diverse cases of social impact. The desire to unleash the human potential with our solutions, has taken us to more than 40 countries with various projects that aim to improve the living conditions of the populations.
We have even given support to the UN in large initiatives of social engagement through communication.
And it was with the experience acquired alongside organizations and partners from the third sector that Weni became WhatsApp's Business Provider Solution.
With this, it offers the means for non-profit organizations that want to use the API of the platform, as in the case of R4V, to provide reliable information for today's most used means of communication.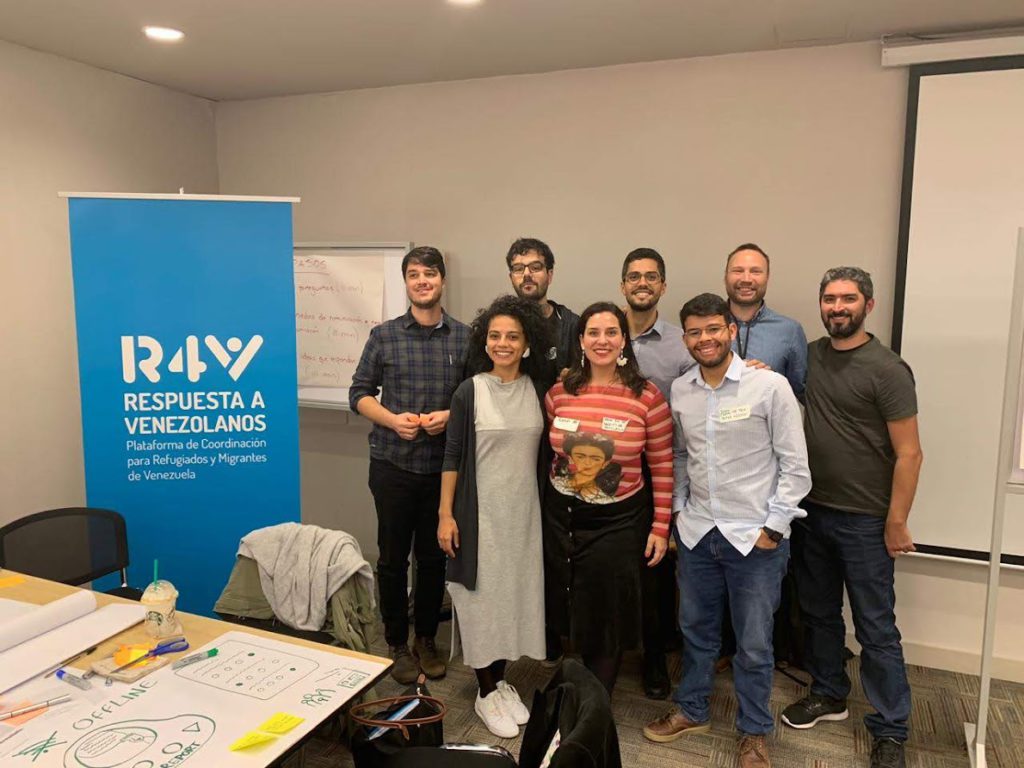 The project in practice: personalizing communication for refugee youth
The friendly Gigante communicates with teenagers and young refugees in Portuguese or Spanish – according to the user's preference, at the time of interaction and registration.
Its visual, the name Gigante, and the content of the platform were built in consultation with groups of young people served by Operação Acolhida, an operation created by the federal government in Roraima to assist in humanitarian assistance to refugees.
All bot communication is based on the specific objectives of the project, which are
Ensure meaningful participation of refugee and migrant groups in the R4V Response, including the most vulnerable groups;
Provide a reliable source of information on key topics including documentation, health, education, employment;
Support social cohesion of refugee and migrant groups and host communities;
Provide a feedback mechanism on the quality of services; and
Support the development of standard data points around migration.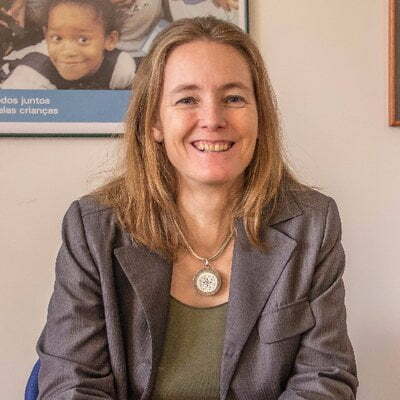 "The U-Report Uniendo Voces is a space to give a voice to the adolescents and young people of Venezuela through the channels they already use, the social networks. In addition to answering polls, they will be able in the future to express themselves about the services they have access to, anonymously. The tool seeks to make adolescents and young people agents of change." — Florence Bauer, Unicef Representative in Brazil
Since one of the goals is facilitated communication, people can chat with the bot at any time of the day, in a space created to send reliable information and to collect opinions on relevant issues that help the integration process in their host countries.
In order to create a safe environment for the project participants, important information and survey participation is saved, but confidentiality is maintained.
The U-Reporters (volunteers who participate in the surveys) help with each new action planned for the project. All the answers they send are collected by Gigante, stored in the Uniendo Voces U-Report server, and later processed by R4V.
Through surveys and chats, the institutions in charge of the project are able to get closer to the refugees and collect important data to map problems and think of valid solutions to guarantee basic assistance to those in need.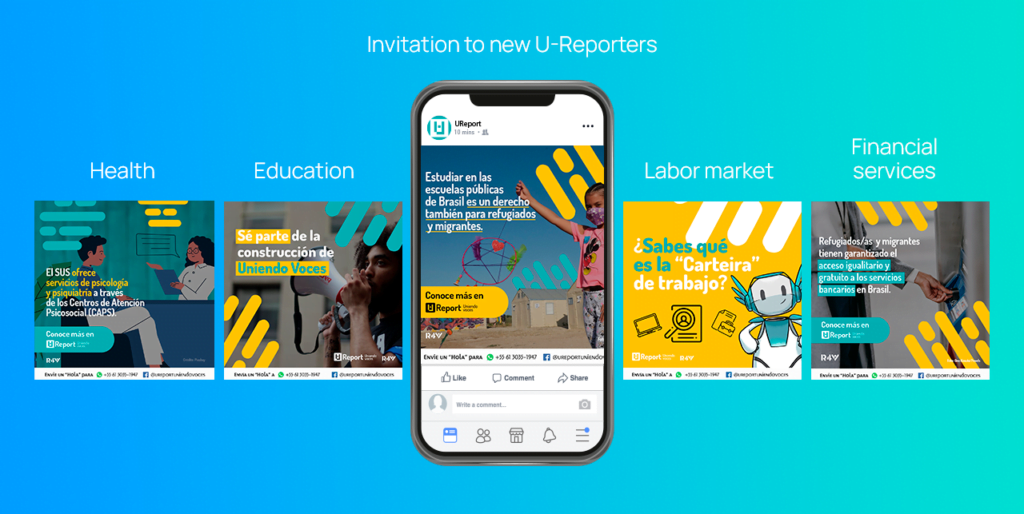 The treatment of the data collected with the surveys is super important, because they enable strategic planning to solve any problems identified. Thus, all the activities proposed by the R4V general management are suggested based on the answers given by the U-Reporters.
In case you are interested in the project and want to test the Giant, just send a "Hello" to the available channels:
More information about the project can be found on Facebook: https://www.facebook.com/ureportuniendovoces
Results: more than 35 thousand impacted
Since its creation in December 2020, the U-Report Uniendo Voces has reached more than 35,000 refugees. These people have been able to benefit from reliable information and even contribute to improvements in their living conditions.
The results of the polls and the distribution of issues discussed with the U-Reporters are publicly available on the official website: https://uniendovoces-br.ureport.in.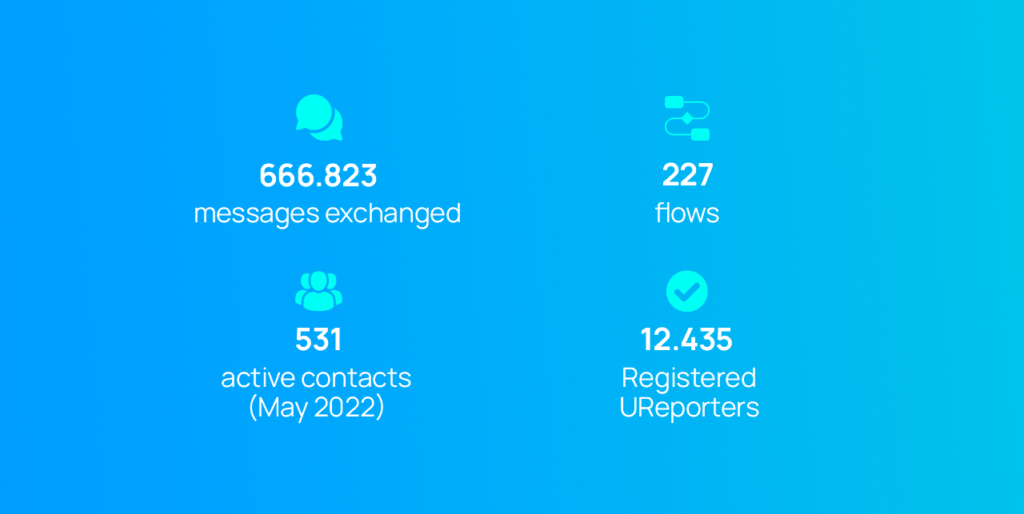 The Giant bridges the gap in human relations and offers practical help. Because it is available 24 hours a day, it favors contact with refugees.
Social impact projects usually consider data to plan their next steps, and it is no different in Uniendo Voces. The numbers collected on the platform are analyzed to allow R4V managers and organizations to better target their efforts and public policies towards refugees.
Social Impact at Weni
Projects like Uniendo Voces prove that technology can and should be used for social impact purposes.
Weni seeks to present solutions for the development of the population, offering the necessary means to alleviate and solve society's problems.
As Leandro Neves, founding partner and CEO of Weni, would say: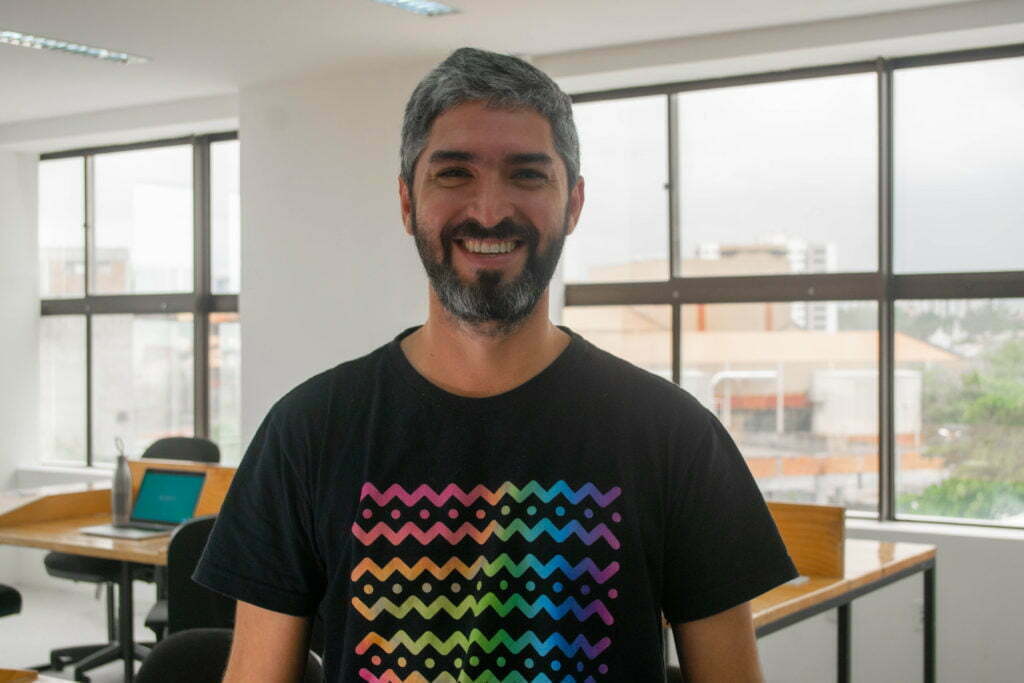 ---
Weni specializes in creating projects that change the world.
If you are looking for reach, engagement and good results, you have found the right solution.
Want more information about how to transform the world exploring all the potential of technology? Talk to Doris, our virtual assistant, and ask to be assisted by one of our specialists.
Be our next success story!